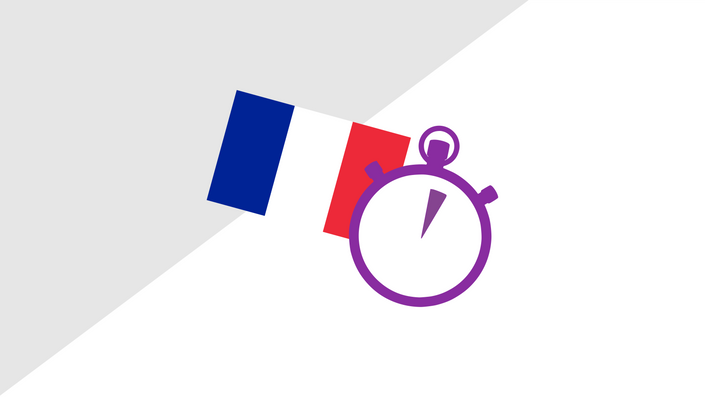 3 Minute French - Free taster course | Lessons for beginners
Learn to speak French you can use in everyday real-world situations - all in just 3-minute chunks!
Watch Promo
Now, obviously you can't learn French in just three minutes, but you can learn it in three-minute chunks.
When you learn something new, what tends to happen is that you start out with lots of enthusiasm and motivation. When you're full of motivation, you can easily sit learning for hours and hours on the first day or two. However, normally, this motivation dwindles very quickly and then most people give up.
With 3 Minute French, the method makes you stop learning after just a few minutes. By forcing yourself to stop whilst you're still enthusiastic, you will keep your motivation levels high and you will want to continue for longer.
Short bursts of studying every day are much more beneficial for language learning than long, drawn out lessons once or twice a week. You'll find that you will maintain your enthusiasm for learning meaning your daily 3-minute lessons will easily become a habit, and you'll remember everything much better.
In each 3 Minute French lesson, you'll learn a few words that you can put together to build sentences. As you progress through the lessons, you'll learn more and more words and be able to make longer and more complex sentences, and when we get to trickier grammatical structures, they are tackled in a simple step-by-step way.
I developed the 3 Minute Languages method over fifteen years, testing it and tweaking it with my own students to make sure it was as good as it could be. As well as the short lessons, another unique part of this method is the order you'll learn things in.
Traditional language courses start out by giving you a long list of pronunciation rules, starting with the letter 'a' and going through the whole alphabet. I know when I started to learn languages, this put me off immediately, because I was being bombarded with strange information before I had learnt a single word of French. In the 3 Minute French courses, we get used to the pronunciation rules gradually with each word we learn.
Additionally, the words and phrases you learn at the start of traditional language courses are not always very useful. I remember learning how to say things like:
- I have a sister who is twelve years old
- I have two dogs and a cat
- My favourite sport is tennis
These sentences weren't very useful when I first went to France, so I didn't really get the opportunity to speak. What I did for the 3 Minute Languages courses is change what you learn first. I chose the most useful words and I give them to you in the very first lesson, so that you'll be able to say things that you'll actually use the first time you travel abroad.
So, that's how the 3 Minute French courses work. You can start out knowing nothing, and you'll be speaking French from the very first lesson.
Have a go with the free course, and if you enjoy that, you can move on to the full course to continue to learn more of the language.
Happy learning :-)
Kieran
Your Instructor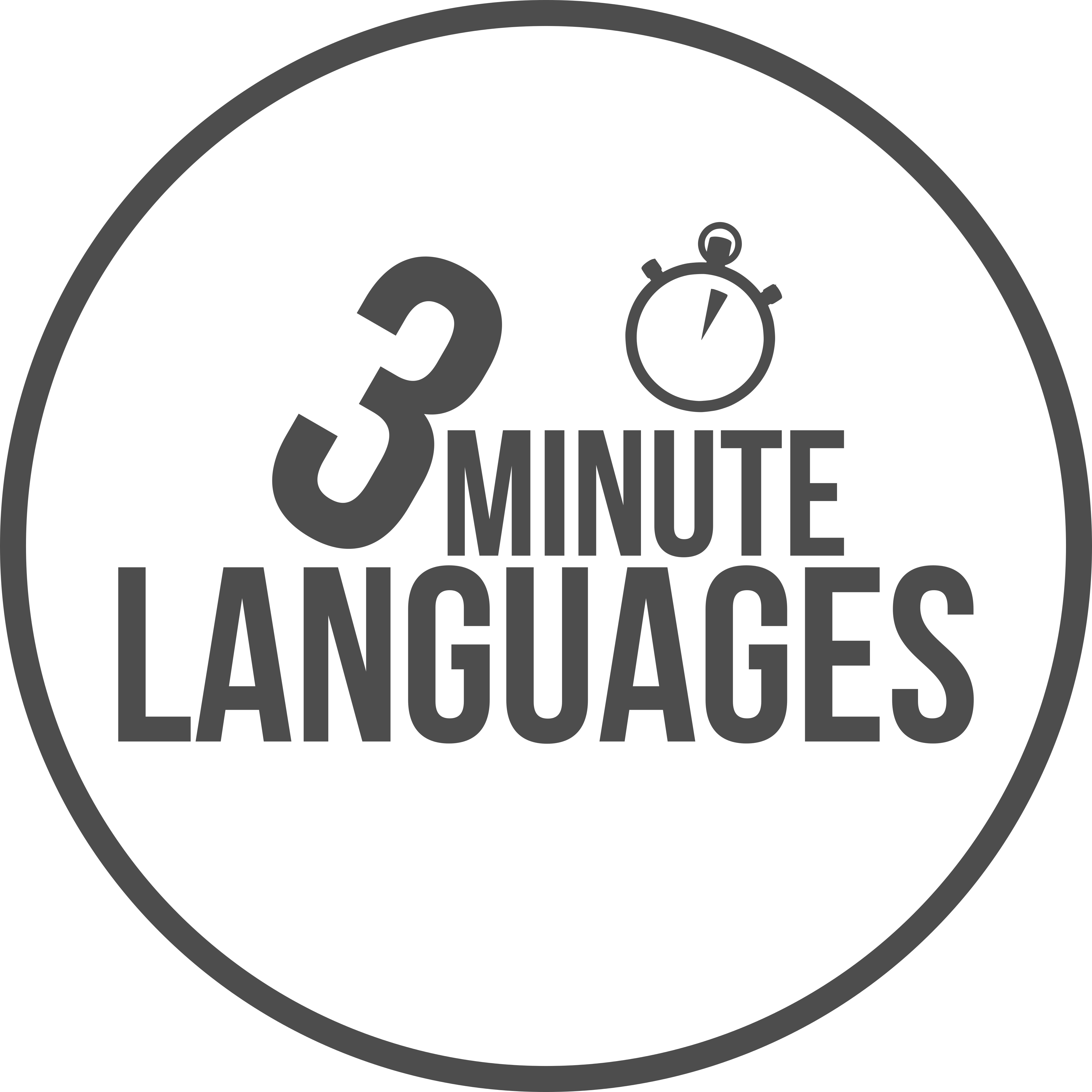 Hello, bonjour, hola, hallo, ciao and olá!
I'm Kieran and I'm a language tutor based in the UK, and I also create online courses and write books to make language learning accessible to all.
My books and online courses are based on the methodology I developed for teaching languages, which I've been using in all my classes for many years. The methodology will get you speaking quickly, without the struggle normally associated with language learning.
I'll not bore you with my life story or intricate details of the history of the methodology; I know you probably just want to start learning now, so I'll let you get on with it.
I have created three series of language courses available in French, Spanish, German, Italian and Portuguese. They're called: '3 Minute Languages', 'Building Structures' and 'Quick Guides'.
3 Minute Languages
The 3 Minute Languages courses are perfect for the complete beginner. They will get you speaking a language from scratch, assuming you know absolutely nothing. You will be amazed at how quickly you're able to put sentences together. And you will memorise new words and phrases easily without even trying.
The 3 Minute Languages courses include:
3 Minute French - Course 1 | Course 2 | Course 3 | Course 4 | Course 5 | Course 6
3 Minute Spanish - Course 1 | Course 2 | Course 3 | Course 4 | Course 5
3 Minute Italian - Course 1 | Course 2 | Course 3 | Course 4
3 Minute German - Course 1 | Course 2 | Course 3 | Course 4
3 Minute Portuguese - Course 1 | Course 2 | Course 3
3 Minute Dutch - Course 1
Building Structures
The Building Structures courses are a revolutionary way to look at foreign language acquisition; you will learn how any language can be broken down into around fifteen structures. Each course focuses on a different structure, and you will learn how to form it, make it negative and turn it into a question. Each structure gives you a huge amount to say, and once you've learnt all fifteen structures, you will know everything about the language. All you have to do is fill in the gaps with words to form a sentence. These courses are for students who are slightly familiar with the language, and what to boost their progress.
The Building Structures courses include:
Building Structures in French - Structure 1 | Structure 2 | Structure 3
Building Structures in Spanish - Structure 1 | Structure 2 | Structure 3
Building Structures in Italian - Structure 1 | Structure 2 | Structure 3
Building Structures in German - Structure 1 | Structure 2 | Structure 3
Building Structures in Portuguese - Structure 1
Quick Guides
The Quick Guides are grammar guides. I recommend these for students who have already been learning the language, and would like to accelerate your learning. The Quick Guides are perfect for anybody who wants an in-depth look at a specific grammar point within the language.
The Quick Guides courses include:
French - Verbs 1
Spanish - Verbs 1
German - Verbs 1
Italian - Verbs 1
I've also created one extra course focusing on English grammar for speakers of other languages: Fly Through English - Verb Tenses
And I'm in the process of creating a series of maths courses. Currently, you can get 3 Minute Maths - Fractions and 3 Minute Maths - Percentages
I hope you enjoy, and "Happy Learning" :-)
Kieran
Class Curriculum
Introduction
Available in days
days after you enroll
Lesson 1
Available in days
days after you enroll
Lesson 2
Available in days
days after you enroll
Frequently Asked Questions
When does the course start and finish?
The course starts now and never ends! It is a completely self-paced online course - you decide when you start and when you finish.
How long do I have access to the course?
How does lifetime access sound? After enrolling, you have unlimited access to this course for as long as you like - across any and all devices you own.
What if I am unhappy with the course?
We would never want you to be unhappy! If you are unsatisfied with your purchase, contact us in the first 30 days and we will give you a full refund.